Okay.
Before that job recruitment last Saturday, I didn't want to work for EPSON. After all, I don't (or didn't) want to be a programmer. But after they presented their compensation package, well... I drooled! I don't exactly know how much their entrance pay is (they only told us it was above average),but their benefits are great! Plus, they have added incentives for people who can speak Japanese because EPSON is a Japanese company and they send people to Japan all the time. Isn't that just great for me? Also, their office is located in a swanky area in Cebu. Cebu! Not Manila! Perfect, huh? But... I still don't know what will happen to my application. I don't even know when I'll get the results.
I was pleasantly surprised with their exam, however. It was in 3 parts: a psychological exam, Numerical Reasoning, and Abstract Reasoning. For the first time in my life, I found the Numerical Reasoning section the easiest. That was a real surprise, considering how lazy I am with Math. The first part was not very good because there was a time limit, but the third part was, in my opinion, the most difficult. The crazy thing is, in all exams I've taken in the past, my highest scores are in English and Abstract Reasoning, even if I always find the latter part difficult. So, really, I have no idea how that exam turns out. Apparently, they'll just contact the people who qualify for the interview. Ohhh, I'll have to cross my fingers real tight. Just imagine how great it would be if you had a job waiting for you even before graduation!
Anyhow, Uchida Sensei and some Japanese girls from Ferris are in the Philippines right now. They came to my house last night, and we had
lechon
because Sensei really loves it. They also cooked Japanese food, which was really nice. They brought me Japanese foods that I missed, too! So I am
ureshii
.
Aya, one of the girls who was here as an exchange student last year, was with the group, and she gave me a copy of her pictures of Ferris. I wanted to share them with you...
So here are the pictures of my school when I was an exchange student in Japan--
Ferris University
, in Yokohama:

The main entrance.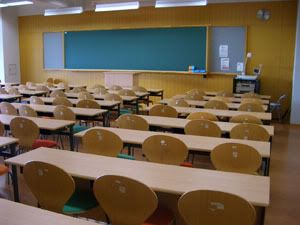 One of the classrooms.
The swanky computer room.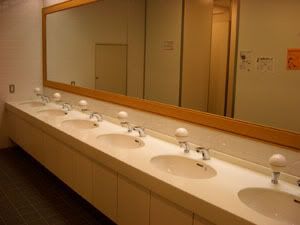 My favorite rest room.
It's big, and the lights automatically turn off if there's no one in the room. Each stall also has a noise-emitting device so your neighbors won't hear whatever sounds you're making.
No kidding!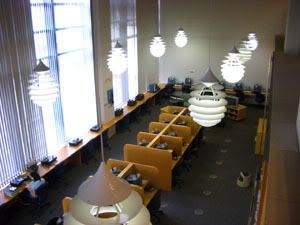 The multimedia section of the library.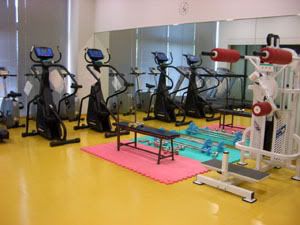 And they even have a fitness gym now. Crazy, huh?
Anyway, if you know a Japanese, ask him/her about Ferris. He/She probably knows about it. It's seriously the most sophisticated "all-girls" university in the country. That's how lucky I am to have been given the opportunity to be there.
lechon - roasted whole, young pig
ureshii - Japanese term for happy